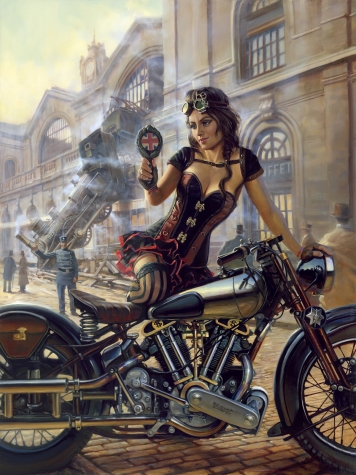 We are excited to announce the worldwide release of David Uhl's third Steampunk piece, titled "Saboteur". Followers of David's Fine Art program have enjoyed the beauty and success of the first two in this series, "Steampunk Seduction" and "The Huntress".
In David's words, "I wanted to note that this is the most complex piece of work I have ever done. As you know the Steampunk series is edgy and pushes the limits of what motorcycle art is all about. This wild piece interested me because of the heated rivalry between the French and English during the Victorian era, which is what Steampunk is all about. Our lady rides the pinnacle of British engineering, the early Brough Superior, and is poised to assess the damage to the marvelous Montparnasse Train Station in Paris. I shall let the viewer's imagination put together the rest of the drama."
This video link provides insight into the crash.
Accomplished motorcycle racer, Melissa Paris served as David's model for this masterpiece. Melissa began riding motorcycles at age 20, much later than most of the people she races against. About a year later she began racing. In 2008 she won her first national championship in the Lightweight GP class aboard a 250 gran prix machine. In 2009 Melissa competed in her very first pro race in the famous Daytona 200. That same year she became the first woman to qualify for a World Supersport event. Since then she has gone on to race in the AMA in Supersport, the FIM/CEV Supertock, as well as in one off events in British Supersport and the Suzuka 4 Hours. More information about Melissa: http://melissaparis.com
Saboteur

Each of these canvas prints will come hand-signed and numbered with Certificate of Authenticity.

Edition Size

Image Size (WxH)

Opening Price (2015)

Current Price

Regular canvas: 60, 10 AP, 8 HC

18" x 24"

$1,295

$4,250-RARE

Large canvas: 60, 10 AP, 8 HC

24" x 32"

$1,895

$6,000-SOLD OUT

Oversized canvas: 30, 7 AP, 6 HC

30" x 40"

$2,895

$7,000-SOLD OUT

Total Edition Size: 199


Prices are subject to change based on aftermarket availability.
Categories: motorcycle art, Brough Superior, Steampunk, biker art
Awesome New Release from David Uhl!
"The Huntress"
Featuring model and actress Kristy Swanson,
the original "Vampire Slayer"
Already Rare Call Doug @ (720) 460-7031 for availability!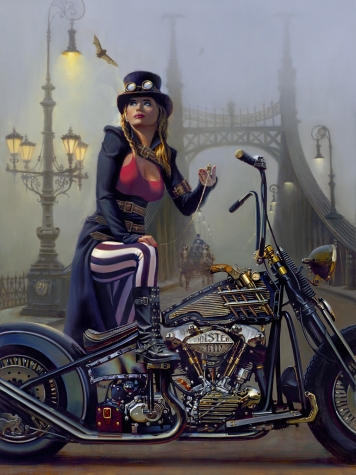 Jessi
We are proud to announce the worldwide release of "Jessi", David Uhl's newest addition to his Women of Harley-Davidson collection. As you may know, this series started with the iconic "Ruby" in 1998 and every 2 years David adds a new woman. "Jessi" joins the ranks of Ruth, Evelyn, Stella, Rose, Gloria, Pearl and Betty. "Jessi" was inspired by the WAVES of WWII, women who proudly served in the US Navy. With a WWII SJN T-6 Texan in the background, Jessi Combs (fastest woman on 4 wheels) was the model and Jim Wear (Rocky Mountain Motorcycle Museum) provided the 1945 US Navy Edition Harley-Davidson.
Steven Tyler "Aerosmith" and David Uhl hard at work creating new concepts and images.