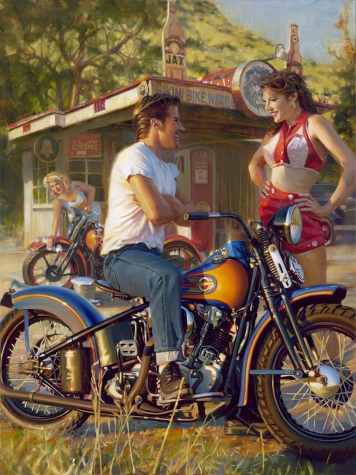 Bikini Bike Wash

Since 2005, David has created a special piece for Sturgis every year. He continues that tradition this year with "Bikini Bike Wash".

This latest masterpiece is a few years in the making and features bike builder Matt Olsen and his wife Brittney. Matt is astride his '39 Knucklehead bobber "Dottie" (now owned by Pat Simmons and Cris Sommer-Simmons). Bikini Bike Washes are a fixture at rally time, and the unmistakeable Black Hills backdrop stamps this as a true Sturgis scene from days gone by. Matching numbers are available for those who want to add this to their existing Sturgis Commemorative pieces. Edition numbers will be assigned as orders are taken. Similar to past Sturgis pieces, the edition's special Rally prices are available only through the end of this year's rally (August 10, 2014). Shipping is included within the contiguous 48 United States.

We will have David's full gallery at the Gold Dust Casino in Deadwood again this year during the rally (from July 31st-August 10th). We are excited that Kristy Swanson, David's model for "The Huntress", will be joining him at the Gold Dust on Sunday August 3 and again on Monday August 4.

The signed, numbered canvas prints are available in two sizes and come beautifully framed with Certificates of Authenticity.

Edition Size

Image Size (WxH)

Opening Price (2014)

Current Price

Regular canvas

20" x 26.5"

$895

$895

Large canvas

30" x 40"

$2,250

$2,250

Total Edition Size: TBD
Please call Doug @ (303) 460-7031 to place your order today!
Thanks,
Douglas Komhyr
doug@fineartworld.com
Awesome New Release from David Uhl!
"The Huntress"
Featuring model and actress Kristy Swanson,
the original "Vampire Slayer"
Already Rare Call Doug @ (720) 460-7031 for availability!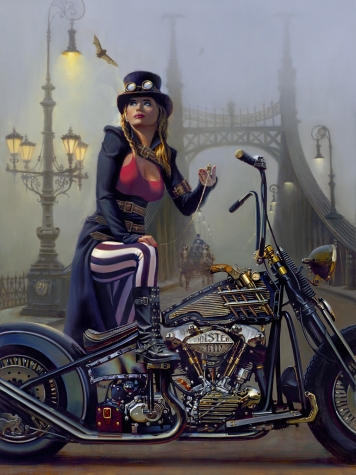 Jessi
We are proud to announce the worldwide release of "Jessi", David Uhl's newest addition to his Women of Harley-Davidson collection. As you may know, this series started with the iconic "Ruby" in 1998 and every 2 years David adds a new woman. "Jessi" joins the ranks of Ruth, Evelyn, Stella, Rose, Gloria, Pearl and Betty. "Jessi" was inspired by the WAVES of WWII, women who proudly served in the US Navy. With a WWII SJN T-6 Texan in the background, Jessi Combs (fastest woman on 4 wheels) was the model and Jim Wear (Rocky Mountain Motorcycle Museum) provided the 1945 US Navy Edition Harley-Davidson.
Steven Tyler "Aerosmith" and David Uhl hard at work creating new concepts and images.